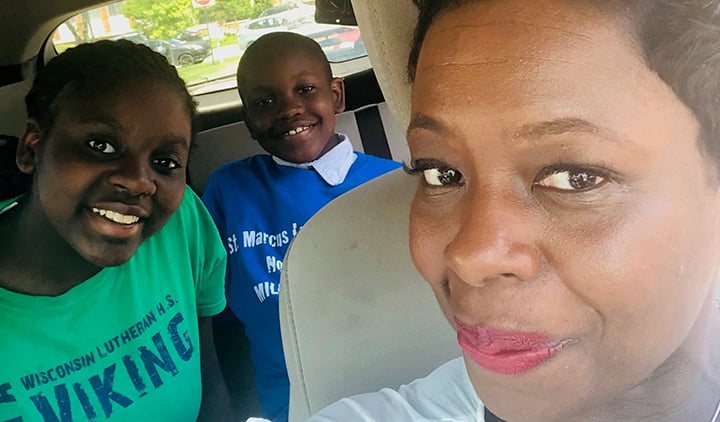 Bridgett Wilder is a fighter.
Since age 18, her life journey has seen numerous ups and downs, ranging from the most painful tragedies to the most triumphant personal accomplishments. Yet, when faced with seemingly insurmountable obstacles, Bridgett overcame them by leaning on her intimate relationship with God. Time and time again, trusting His plan opened doors for her. It's no wonder, then, that even a global pandemic can't shake Bridgett's steadfast faith.

"When COVID-19 hit, I feared the worst. It felt too real," Bridgett recalls. "I started to worry about my family's food supply and how we were going to bring more in." A widowed mother of nine that includes two current St. Marcus scholars, Bridgett is no stranger to hardship. She faced down her late husband's unexpected death and a period of homelessness. But with total trust in God's plans for her, Bridgett persevered. Eventually, she earned a college degree in dietetics, founded her business, Perseverance Health and Wellness Coaching (bridgettwilder.net), and recently published a book about her life and faith called Why Me? A Question I Refuse to Ask God.

With these successes, a new chapter began to unfold for Bridgett. Completely reliant on self-promotion, referrals, and word of mouth, Bridgett has built her business from scratch. "It hasn't been easy," she says, "but I believe God has called me to use my passion and gifts as a nutritionist to help others reach their health and wellness goals." A fledgling business means an uncertain income stream, and COVID-19 severely crippled an already fragile financial situation. "The shut-downs have dramatically slowed my client acquisition, and all of my upcoming speaking engagements were cancelled," she says. With applications for unemployment benefits and small business loans still unresolved, Bridgett's livelihood was in jeopardy, and she knew she needed help.

"I didn't want to tell anybody what I was going through, especially after having come so far," she says. "But God pulled me through in the past and I knew that He would come through for me again. I prayed and prayed about it and asked God to show me a way. It was time for me to once again trust in His plans. He saw my need and opened a door through St. Marcus. It wasn't easy for me to do it, but I reached out for assistance." The St. Marcus COVID-19 response team was able to provide Bridgett with a supply of groceries and additional financial support.

"The support from St. Marcus was everything. It meant survival," Bridgett says. "As a widow, I'm on my own. My St. Marcus family is a support system that helped carry me through this crisis. God truly works through the St. Marcus community to touch and change others' lives. I am incredibly grateful."

With the relief this blessing provides, Bridgett is taking every opportunity to seek good and do good during this time. The Milwaukee Journal Sentinel featured her work as a health and wellness consultant this June. In addition, she is using this time to work on her second book, A Beautiful Mess, which explores how we find beauty in times of chaos.

"Rather than viewing COVID-19 as a punishment and asking why, I'm trying to explore how I can use this experience to grow closer to God," she says. "Healing our community by way of nutrition is my spiritual calling. I believe that the incredible support I received from St. Marcus is God's way of strengthening me during a time of fear and vulnerability. He wants me to be in the best possible place so that, when this is all over, I can get back to doing His work."

..........
Are you a Thrivent member? Consider using one of your Thrivent Action Teams to impact even more families. We are finding there is less of a demand for food because of FoodShare programs available, but things like cleaning and household supplies and personal hygiene items are still needed. A $250 action team can assist at least three families with these types of necessities. If you are interested in applying your action team to make an impact contact nell.speerschneider@stmarcus.org.