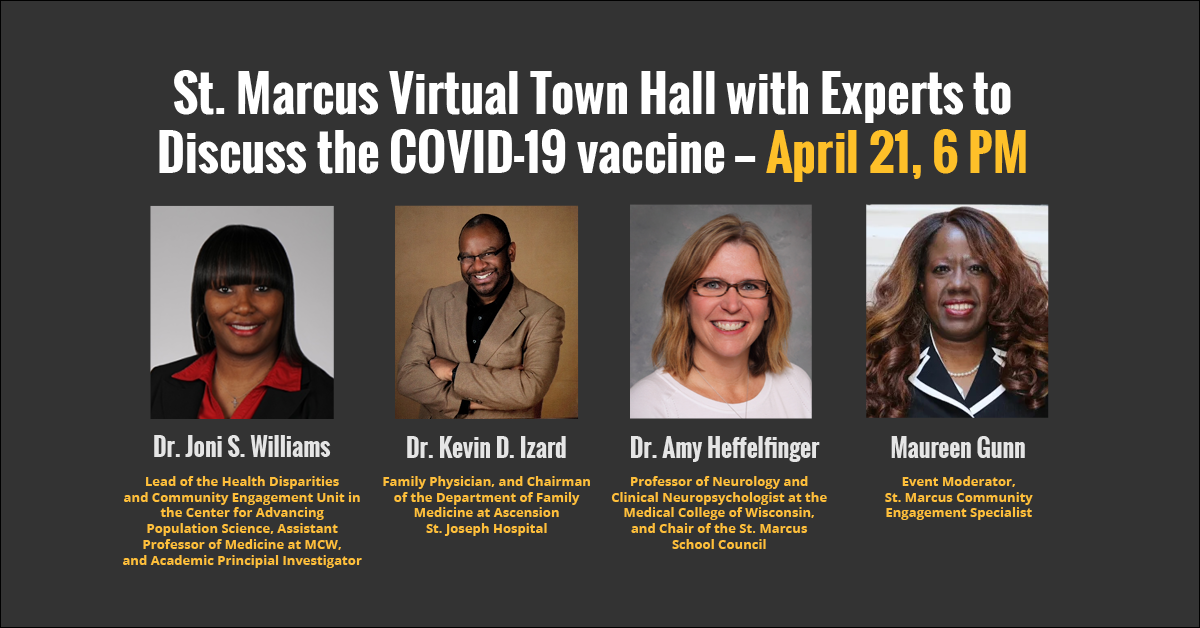 St. Marcus School is hosting three experts to discuss the COVID-19 vaccine and equitable health care in our community. The forum will take place on Wednesday, April 21, at 6:00 PM on our school Facebook.
Our panelists Dr. Kevin Izard, Dr. Joni Williams and Dr. Amy Heffelfinger-Miles will share information that you may consider when making decisions around whether or not to get the vaccine. Join us to hear testimonials from the community and participate in a Q&A session at the end. The conversation will be moderated by Maureen Gunn, St. Marcus Community Engagement Specialist, and all are welcome to tune in. Read on for more info about the panelists.
𝗣𝗔𝗡𝗘𝗟𝗜𝗦𝗧: 𝗗𝗿. 𝗝𝗼𝗻𝗶 𝗦. 𝗪𝗶𝗹𝗹𝗶𝗮𝗺𝘀
Dr. Joni S. Williams is an Assistant Professor of Medicine at the Medical College of Wisconsin in the Division of General Internal Medicine, Center for Advancing Population Science, and Graduate School of Biomedical Sciences. She has more than 12 years of experience in clinical trials, patient-level behavioral interventions, and community-engaged research to improve self-management among adults with type 2 diabetes, with a focus on African Americans. Currently, Dr. Williams is the Principal Investigator of a grant funded by the National Institutes of Health aimed at mitigating stressors associated with multi-caregiving responsibilities and improving clinical and behavioral outcomes in African American women with type 2 diabetes. Dr. Williams is also the primary Academic Principial Investigator on a community-based workforce development grant, funded by the Advancing a Healthier Wisconsin Endowment, that introduces nursing students to public health to promote community health nursing and improved population health. She currently serves as Lead of the Health Disparities and Community Engagement Unit in the Center for Advancing Population Science and is passionate about addressing issues related to social injustices in health.

𝗣𝗔𝗡𝗘𝗟𝗜𝗦𝗧: 𝗗𝗿. 𝗞𝗲𝘃𝗶𝗻 𝗗. 𝗜𝘇𝗮𝗿𝗱
Kevin D. Izard, MD, is a Family Physician who works for Everside Health, where he has a full service direct primary care practice. He just completed his term as the President of the Cream City Medical Society, the Wisconsin chapter of the National Medical Association. He is also chairman of the Department of Family Medicine at Ascension St. Joseph Hospital. A lifelong Milwaukee resident, Dr. Izard is a Medical College of Wisconsin alumnus and received his Bachelor of Science degree from Marquette University. He completed his internship and family practice residency in the Medical College of Wisconsin Affiliated Hospitals program at Columbia Hospital. He later went on to serve as a faculty member at the Medical College of Wisconsin. He has served as Secretary for the Cream City Medical Society from 2003 to 2005, and as President from 2018 to 2020. He is a former member of the board of directors of the Wisconsin Academy of Family Physicians, and of the Milwaukee County Medical Society. Dr. Izard's practice style emphasizes partnership between himself and his patients, and the community in which they live. He practices the full spectrum of Family Medicine, including treating infants and children through the elderly. In his free time, Dr. Izard is a Praise and Worship leader at his church. Dr. Izard and his wife Angie have two sons and live in the Sherman Park Neighborhood of Milwaukee.

𝗣𝗔𝗡𝗘𝗟𝗜𝗦𝗧: 𝗗𝗿. 𝗔𝗺𝘆 𝗛𝗲𝗳𝗳𝗲𝗹𝗳𝗶𝗻𝗴𝗲𝗿
Dr. Amy Heffelfinger is a Professor of Neurology and Clinical Neuropsychologist at the Medical College of Wisconsin. specializes in the development of cognitive functioning in preschoolers and works with children of all ages with neurological, medical, and genetic disorders that often effect cognitive development. She trains graduate students and post-doctoral fellows in Clinical Neuropsychology and has a national leading role in standards for training. An active member at St. Marcus Lutheran Church and School, Dr. Heffelfinger's two daughters attended K4 through 8th grade at St. Marcus and now Dr. Heffelfinger serves as the Chair of the School Council. In all personal and professional activities, Dr. Heffelfinger strives to promote racial equity in education and health.