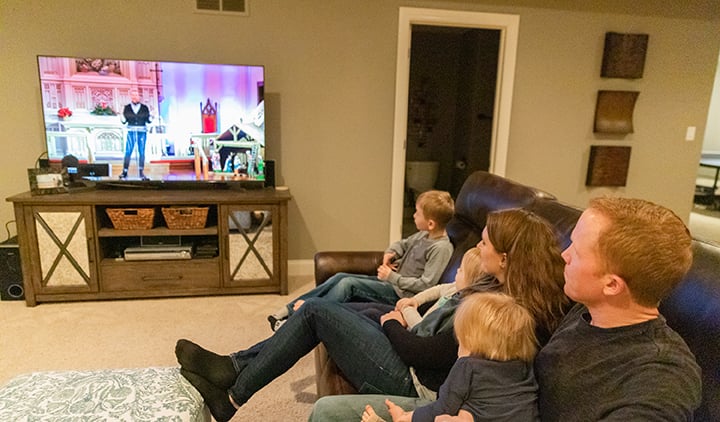 Do you remember what church was like a year ago?

Believers filled almost every pew in the church to sing songs, hear sermons, and have in-person fellowship with one another. Now we're in our living rooms watching church on a screen by ourselves or with a few household members. If we do worship in-person we have masks on and are spread out throughout the sanctuary to ensure social distancing.

What a strange time to be living in…

As great as it is to have the resources available to us like the internet, smart devices, and cameras to share God's message it still doesn't make the experience of worshiping at home any easier. Worshipping from home with my husband sometimes feels, well, awkward. It's just the two of us singing back to a screen. My mind gets easily distracted with the dishes I see in the sink, the laundry I want to fold and put away, or my cell phone that's sitting right next to me that I want to check social media on. I hate to admit it, but I'm guilty of thinking to myself that I could skip the live stream church and listen to the podcast sermon later while I'm on a walk. I'm sure for families with younger kids the struggle is keeping your kids attention on the service instead of them wanting to go to the other room to play with their toys.

The point here is this: As one of your worship leaders I, too, struggle with worshipping from home.

Before we start to look towards "new" ways to worship and change the way we worship, perhaps we should look to God's Word first. Is there any part of scripture that can teach us how to worship from home?

And guess what? Turns out the worshipping from home is Biblical!

Let's look at the Book of Acts and the beginnings of the Early Christian Church.

As it turns out the Early Christian Church had no choice but to gather in each other's homes. The Roman government opposed the early movement of Christianity and would not allow them to gather in public spaces. So believers gathered in each other's homes to sing hymns, talk about God's teachings, and be in fellowship with one another.

You may ask, "how did they know what to talk about and learn more about God?"

If we look beyond the Book of Acts, pretty much the rest of the New Testament are letters written by the apostles to various churches or groups of believers in different cities. These letters instructed them of God's word, his promises, Jesus's teachings, and instructions as to how they should live as followers of Jesus. By 311 C.E. the government lifted the restrictions for Christians to gather and that is when they were able to finally build worship spaces and gather publicly to worship God together. So for 3 centuries Christianity was primarily an in-house movement!

Thankfully, in the States we don't have a government banning us from worshiping the one true God. The social distancing restrictions that are in place are ultimately there to protect us. Until those restrictions are up and we feel safe to be in large gatherings again we have no option but to worship from home, just like the Early Christian Church. Instead of us receiving letters via the Roman road system from the apostles, the key form of communication is via the internet and the use of live streamed services from our Pastors and worship leaders.

Knowing that the persecuted Early Christians still put the effort to gather and worship tells us that we can find a way to do it as well. We can make the best of our circumstances and follow God's instruction found in Hebrews 10:25: "Do not give up meeting together, as some are in the habit of doing, but encourage one another -- and all the more as you see the Day approaching."

Here are some practical tips to get you and your family more involved physically and prepared mentally to worship and deepen your relationship with God from home.

1. Set a time to worship.

Being at home with other smart devices for entertainment, chores to do, and kids to watch can be difficult to stay focused for roughly 1 hour. Set a specific time on your weekly schedule in order to be intentional about worship and give your full attention to the LORD. Here are two ways you can do this:
Join us for the live streamed services St. Marcus always has scheduled for Saturdays at 5pm and Sundays at 8am.

Set a time to watch it later with your household or with a friend virtually. With this option you have the ability to press pause at any time to discuss the sermon together.


2. Worship with your whole body!

Psalm 100 encourages us to "Make a joyful noise to the LORD!" The worship leader doesn't want you to sit back and listen to them sing as if you were at a concert. Instead, their goal is to encourage you to sing praises WITH them.
As strange as it feels to sing alone, I encourage you to turn up the volume and sing along with the worship leader. The LORD delights in our voices and it doesn't matter if we are in tune or not.

Stand up! It's easy when we are at the kitchen table or on the couch to get a little too comfortable and simply listen to the music. Standing up encourages our body to give our full attention mentally and physically.

Try swaying or dancing! Not only do the words that come out of our mouth reflect what is in our hearts, but so does our body language. In 2 Samuel chapter 6 we see that King David "danced with joy before the LORD". This is especially fun to do if you have younger kids participating in worship with you! They may not be able to sing along to every song, but they can hear the words, rhythm, melody and worship God with their bodies.

3. "Stay fit" with the word by participating in a Bible study.

1 Corinthians 6:19 tells us that our bodies are "temples of the Holy Spirit" and that we should honor God with our bodies. We can honor our temple by feeding it with good things for our spiritual health like participating in worship. But if we look at worship like we do with food, when we set time for God only one hour a week that's like eating only healthy foods for one meal a week! Our physical bodies wouldn't be very strong if we lived like that. So how can we keep feeding ourselves spiritually besides participating in a worship service? Here are a few ways to study the Bible that St. Marcus provides and encourages you to participate in:
Subscribe to a podcast/YouTube Bible study. Pastor James and his wife, Ade, have a podcast/YouTube daily Bible study series called "Two Steps Forward". They read through books of the Bible and pick apart chapters in depth. Read the scripture, take notes, and study with them.

Study with other believers.

Join a Growth Group! Our church offers Bible study groups that meet safely in person and virtually. In their gatherings they discuss the previous sermon and how it applies to their lives as well as enjoy fellowship together. We have a variety of groups, so if you'd like to join one email pastor James Hein at james.hein@stmarcus.org to get connected to a group. All are welcome!

Meet up with a friend to discuss your sermon and/or Bible study notes. Proverbs 27:17 tells us that "As iron sharpens iron, so one person sharpens another." If Growth Group times don't work for you or you're craving to study God's word even more, then this is a great way to strengthen your faith along with a brother or sister in Christ!


God never intended for us to be alone (Genesis 2:18). The distance from your church family is hard, and though we may be apart in our worship we are never alone. Jesus promises us in Matthew 18:20 "For where two or three are gathered in my name, there I am with them." God knew that this would happen to us someday and we know that He is still with us even when we worship virtually.

So with that, I encourage you to keep up the efforts of worshiping at home and keep strengthening your "spiritual muscle." When we stop exercising it we become weak and more susceptible to the Devil and his temptations. Though we may be distanced and our worship feels far from normal we can keep up our spiritual strength by applying these practices to our at-home worship experience. That way we don't just ingest good things for ourselves, but the fruits of the Spirit produced in our spiritual health can bless others!



"But you are a chosen people, a royal priesthood, a holy nation, God's special possession, that you may declare the praises of him who called you out of darkness into his wonderful light."




1 Peter 2:9





"But the fruit of the Spirit is love, joy, peace, forbearance, kindness, goodness, faithfulness, gentleness and self-control. Against such things there is no law. Since we live by the Spirit, let us keep in step with the Spirit."




Galatians 5:22-23, 25