Fine Arts Series at St. Marcus
Next Concert: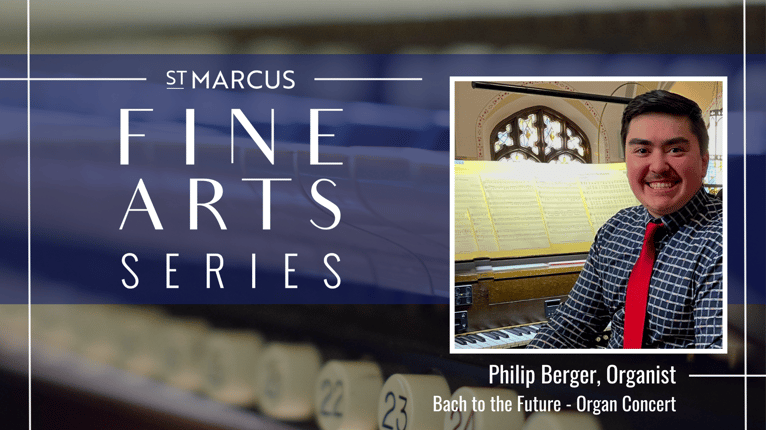 Philip Berger
Bach to the Future - Organ Concert
September 22, 2023 at 7:00 pm
What: Bach to the Future - Philip Berger, Organist
This organ concert will include several works by J.S. Bach and will be followed by select sacred pieces from various contemporary composers.

When: Friday, September 22, 2023 at 7:00 pm (social hour to follow)

Where: St. Marcus Church
Free admission. A freewill donation is appreciated to help offset costs.
---
| About Philip Berger

Philip Berger is currently an organist at Grace Evangelical Lutheran Church and St. Marcus Evangelical Lutheran Church. He has also served at other WELS churches in the greater Milwaukee area. Starting in May 2022, he has served as organ accompanist for the Lutheran Chorale of Milwaukee and he has played for many weddings and funerals at the churches where he serves.

Philip's first instrument was piano which he started at the age of 6. At age 12 he began classical piano lessons at the Wisconsin Conservatory of Music where he was a 1st place merit scholarship recipient four years in a row under the tutelage of Dr. Michael Thiele. He received many other awards for his playing including 2011 Chopin Piano Competition Finalist for which he performed at Polish Fest in Milwaukee.

Philip started learning clarinet at the age of 10 at the Wisconsin Conservatory of Music. He was a four time 1st place merit scholarship recipient for clarinet and received various awards from the Civic Music Association and other Wisconsin music associations. He participated in the Wisconsin State Music Association High School Honors Band and Orchestra. In the summer of 2011, Philip auditioned for and received the Summer Music Clinic Scholarship for clarinet from the University of Wisconsin. This was one of ten full-tuition scholarships given that year for which he competed with over 200 elite high school instrumentalists. In college, he played in the UW Wind Ensemble and Pit Orchestra and was also a guest musician in the Concordia University Pit Orchestra. He still plays clarinet monthly at Grace Evangelical Lutheran Church's worship ensemble.

Philip started organ lessons in 2006 with John Weissrock at Gesu Parish on the Marquette University campus. He continued his studies with Mr. Weissrock until 2012 and has since continued his self-study by expanding his repertoire of church and concert music.

Philip is a Wisconsin Lutheran High School graduate. He also graduated with a BS degree from the University of Wisconsin-Milwaukee and achieved a master's degree in nursing. He then continued his studies to become board-certified as both a family nurse practitioner and psychiatric nurse practitioner. Ultimately, he graduated from the University of Wisconsin-Milwaukee with a doctorate in nursing practice.

Although Philip Berger has not pursued it as a full-time career, music has always been his true passion. He enjoys serving the Lord through church music and inspiring worshipers to praise God. To God be the glory!
---
The St. Marcus Fine Arts Series launched in September of 2019 shortly after the rebuild of its spectacular 34-rank pipe organ. The series aims at bringing together the greater community to hear notable music by expert talent. Concerts take place in the beautiful church sanctuary built in 1913, with its wonderful acoustics. Concerts are followed by a beer and wine reception to visit with artists and fellow attendees. Concerts are free and open to the community.
Fine Arts Series Committee Members: Joel Schwartz, Mark Jeske, Lenny Hanson, Jerry Seigmann, David Porth, and Shelly Fink
---
Stay in touch! Sign up for emails with event details.
Donations are appreciated to offset the cost of these events.