Fine Arts Series at St. Marcus
Next Concert: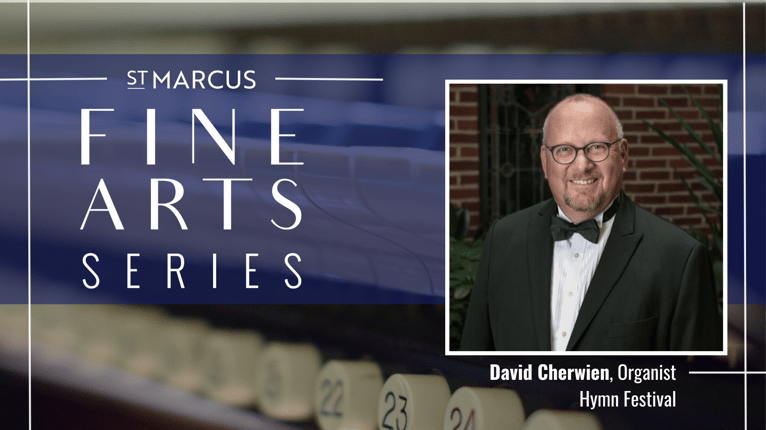 David Cherwien
Organist - Hymn Festival
June 23rd at 7:00 pm
David M. Cherwien is currently serving as Cantor at Mt. Olive Lutheran Church, Minneapolis, MN, and in 2002 was appointed Artistic Director for the National Lutheran Choir, also based in the Twin Cities. He has also held ffull-timeparish music positions in the Minneapolis/St. Paul area, Chicago, Seattle, and Berlin. During the 2000-2001 academic year ,he served as Organist/Cantor of Christ Chapel and Visiting Instructor of Music at Gustavus College, St. Peter, MN. While in Chicago, he served as Teaching Associate in Service Playing and improvisation at Elmhurst College. He completed the Doctor of Musical Arts degree in organ performance, and the Master of Arts degree in Theory and Composition, both from the University of Minnesota. His undergraduate work was in organ performance and choral music education at Augsburg College, Minneapolis, where he was honored as a distinguished alumnus in the fall of 2000.

Following his undergraduate work, he studied for two years at the Berlin Church Music School in Berlin, Germany. There he studied improvisation with Renate Zimmermann, organ Literature with Karl Hochreither, conducting with Martin Behrmann, and composition with the late Ernst Pepping. He has also studied organ with Christian Baude in Aix-en-Provence, France, and with Paul Manz, Heinrich Fleisher, and Earl Barr in this country, and is a Fellow with Melodious Accord, studying composition with Alice Parker.

David Cherwien is a prolific composer with over 150 publications of choral and organ music, with several publishers including MorningStar Music, and is the 2007 winner of the Raabe Prize for Excellence in Sacred Composition for his piece, "The Souls of the Righteous." For the National Lutheran Choir alone, Cherwien has composed at least 24 new works during his tenure with the Choir. He has released numerous recordings of Hymns and Choral Music through Mount Olive Lutheran Church, and the National Lutheran Choir, and serves as editor for the National Lutheran Choir Series with MorningStar. Recordings and music may be found at: nlca.com, mountolivechurch.org, and morningstarmusic.com.

David is a founding member of the Association of Lutheran Church Musicians, serving in its leadership in a variety of capacities, including National President from 1993 to 1997. He is also active in the American Guild of Organists and Choristers Guild.

His workshops on church music, service playing and improvisation, and his hymn festivals and other worship leadership roles have continuously brought him to many parts of the country, including in 2016 serving as Lecturer and Hymn Festival leader at the Presbyterian University and Seminary in Seoul, Korea.
---
The St. Marcus Fine Arts Series launched in September of 2019 shortly after the rebuild of its spectacular 34-rank pipe organ. The series aims at bringing together the greater community to hear notable music by expert talent. Concerts take place in the beautiful church sanctuary built in 1913, with its wonderful acoustics. Concerts are followed by a beer and wine reception to visit with artists and fellow attendees. Concerts are free and open to the community.
Fine Arts Series Committee Members: Joel Schwartz, Mark Jeske, Lenny Hanson, Jerry Seigmann, David Porth, and Shelly Fink
---
Stay in touch! Sign up for emails with event details.
Donations are appreciated to offset the cost of these events.